EMPLOYMENT
Stadium Flowers employees work as a team. As an industry leader we believe in the Stadium Flowers way of look, style and feel in everything we do, from a professional attitude to a genuine smile that reflects a positive attitude which leads to a great working environment.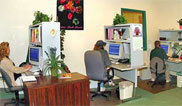 A great place to work!
Stadium Flowers has been family-owned and operated. Because of our excellent craftsmanship and the quality of our floral products and service, our plant and flower arrangements are delightful expressions of our customers' dearest wishes.If you want to be a part of this rich tradition and fulfill your dream of working in the floral industry, don't wait!
Thinking about moving to Washington? Contact us online or call (800) 889-4050 to discuss all possibilities. Stadium Flowers is proud to be a drug-free workplace.
How to contact us...
If you are interested in any of the positions listed, click on the Job Title link to apply online.
To reach us via US Postal Service, write to:
Stadium Flowers
P O Box 598
Everett, WA 98206
Available Positions
Floral Designer
Experienced designer with great attitude and dependability needed to start immediately in our retail location - Lynnwood.
Sales Associate - Lynnwood and Everett Stores
DO YOU LOVE FLOWERS? Are you a "people person", energetic and self motivated? Come join our team. We need someone who can be flexible working weekdays, evenings until 7 p.m. and weekends. No floral knowledge is necessary but, customer service with a smile is a must! Up to 38 hrs per week available. Amount of hours increase during holidays.
Driver
Love to drive? Enjoy the fun of delivering beautiful flowers to our customers!